Last September, one of my favorite producers, Dunkelbunt was in town with his band, The Secret Swing Society. Montreal was the first step in his north America Tour. I was so excited to see him play live with his band, and DJ at The Speakeasy Electro Swing at Sala Rossa in Montreal, 29 September 2011. I had the chance to meet the man himself in Parc Lafontaine and got to spend a while with him chatting at the lakeside full of ducks.

Can you talk to us about your musical background ?
You know we are sitting here in the park in front of this beautiful lake. So just the sound of a nature is a source of inspiration for me, not only the music. This is all music for me. I started to play piano when I was 6. My sister played piano too. My mother sang a lot. I was raised in a musical atmosphere.
When did you decide to make music ?
At first when I was young, I liked to play something, try some improvisation and play with the sound. Later, when I was fifteen, I started to make music with my computer. I was introduced to the music of " The Prodigy ", the first album with all this drum and bass, and hip-hop stuff. I started to analyse a lot of music. I was really curious about how they produced it, and it sounded so far away . It was so intense. I like to fuse the electronic sound with the organic sound.
You are a really versatile producer : Balkan , electro swing, dancehall, dub … What do you prefer the most ?
I don't think I prefer anything the most. What is touching me a lot is oriental music today. Just the last days or weeks I have been listening to a lot of Turkish music and Arabic music. I always feel it touches me. I feel I need to go to Istanbul.
What do you think about the new scene of electro swing ?
For my point of view it is nice to see how it developed. I put my attention to this music a long time ago. I could see maybe about 10 years ago people started to dj swing, but not only swing. When we played Balkan stuff we also played swing and manouche swing.I think the growth of the Balkan music helped to build the swing revival. People who make electronic music starts to sample everything : swing, Balkan…
What do you think about your first live tour in North America ?
It is really new for me and really exciting . I really enjoy the company of the band members and the feeling of the vibe on the tour. Bringing this music to the people is fun.
What is your next project ?
My next project is to make a cd for children with kids songs, but in a Dunkelbunt style with a lot of electronic and dubby stuff. This has been on my mind for a couple of months. I don't think too much about my next album, I just give one minute everyday to think about it. I like to grow very slowly and very deeply. For the next album, I want to do something completely different from what I have already produced. I don't want to repeat myself. When I m in the studio I always want to have be challenged. I have to learn something new. Singing a new way, playing a new instrument.
Can you explain to us your process of creating a song ?
Sometimes it is the duck. (laugh) like he is doing right now. I feel it is when I want to produce, using the sounds of the duck, and adding some effects to it can work. When I have a melody in my mind I can start from there, or I take samples from somewhere and I built an another picture around it. So every time it is different. Sometimes it begi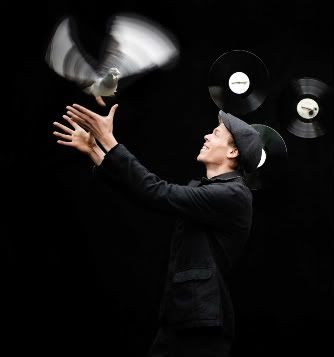 ns from the beat, sometimes it starts from a melody. Sometimes, I think about the fusion of the two, as I like to put a lot of different things together. I have a big relationship with sounds that have a picture, a color, a texture. For me every song and very key has a different color.
Did you listen a lot of music ? Or dig a lot of music ?
From 2001 I remember I downloaded my first mp3. I like to cook. I always joking about it. I would love to upload some samples of food to the people. I am a kid of the wild generation. I have access to music from all over the world with mp3s. I'm searching for music from many different countries : Turkey, Arabia, Serbia I have built up a large knowledge of music. I think this is really important for music to travel. Ok there is a part of it that is not legal, and the artist is losing a lot of money. You don't have to spent money on producing music, you can just send it to your mailing list and hit the button and you know in 5 minutes 1000 people have this song. Everywhere in the planet from Australia to Canada. I also support the music when I am djing and I play wav. I don't like to play mp3 because you the quality of the sound is not good. I want to support the people so I only use the wav.